---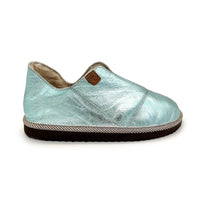 Luxuriously cosy slippers with the palest of green metallic finishes and light sheepskin inners. Merdana Metallic slippers are comfy, light and finished with a hard-wearing textured sole.

MERDANA Metallic Mint Ice are limited edition slippers – meaning the amount of sheepskin or leather waste we can source in a particular style or colour determines the number of pairs we produce per batch. Everything is designed so even the smallest of offcuts can be utilised during our production process.

Concerned about size choices? If you are based in the UK, we are always happy to exchange your slippers to ensure you find just the right fit. And if you've any queries about sizing and fit – just get in touch with us via our contact page or social media.